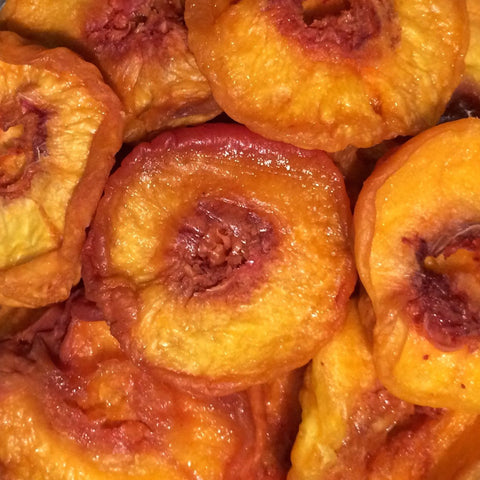 Peaches
$14.00
California-Grown, Sun-Dried, Sweet Peaches
Orchard Gold California-Grown, Sun-Dried Peaches are grown in the heart of California's San Joaquin Valley, picked at their peak of ripeness and sun dried to a fragrant and meaty bright yellow-orange color. Sun-dried peaches have a robust peach flavor and hearty texture and are full of nutrients like vitamin A and C, iron, calcium and fiber.
Sun Dried California Dried Peaches are 2-3" in diameter and are a versatile ingredient for use in both sweet and savory culinary creations like stews and sauces with chicken, duck, and ham. Peaches also pair well with dry wines and liqueurs making them an especially good choice for compotes and reductions. They are also tasty on their own as a snack, in trail mixes and in baked cookies, breads, muffins and cakes.
Our delicious Peaches are rich in vitamin A and C and a good source of fiber, calcium and potassium, Kosher Certified and contain sulfur to preserve color and freshness. Keep frozen or refrigerated to maintain maximum quality. They are available in hand-packed, hand-sorted, 1-lb rounds (2 or 3 per gift box), 5-lbs bulk bag/box and case (12 x 1-lb rounds) quantities.
| Size | Price | Weight |
| --- | --- | --- |
| 1 Lb Round | $14.00 | 1.25 lb |
| 2.5 Lbs Bulk Bag | $34.00 | 1.25 lb |
| 5 Lbs Bulk Bag | $65.00 | 6.0 lb |
| Case (12 x 1 Pound Gift Rounds) | $162.00 | 15.0 lb |
Related products