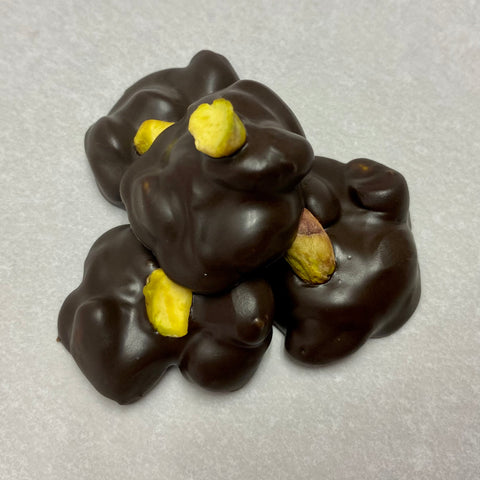 Pistachio Nuggets ~ New! ~ California-Grown, Hand-Dipped
$17.00
Orchard Gold California-Grown, Hand-Dipped, Dry Roasted Pistachio Nuggets are a unique and exquisite artisan treat, hand-dipped in the best quality dark chocolate, milk chocolate and vanilla, available in hand-packed, 10-oz and one-lb gift rounds (2 or 3 per gift box).
Did you know pistachios are a complete protein, are loaded with antioxidants, and are heart-healthy? This green nut is a powerhouse of nutrition with an abundance of vitamins and minerals, and they taste delicious! Pistachios are sought worldwide for their health benefits, taste, and versatility. 
They make the perfect gift for any occasion, especially for those who are hard to buy for, or for those who already have it all! Available year-round with cold packs during warmer months.
| Size | Price | Weight |
| --- | --- | --- |
| 10 oz Round / Dark Chocolate | $17.00 | 1.0 lb |
| 10 oz Round / Milk Chocolate | $17.00 | 1.0 lb |
| 10 oz Round / Vanilla | $17.00 | 1.0 lb |
| 1 Lb Round / Dark Chocolate | $26.00 | 1.25 lb |
| 1 Lb Round / Milk Chocolate | $26.00 | 1.25 lb |
| 1 Lb Round / Vanilla | $26.00 | 1.25 lb |
Related products