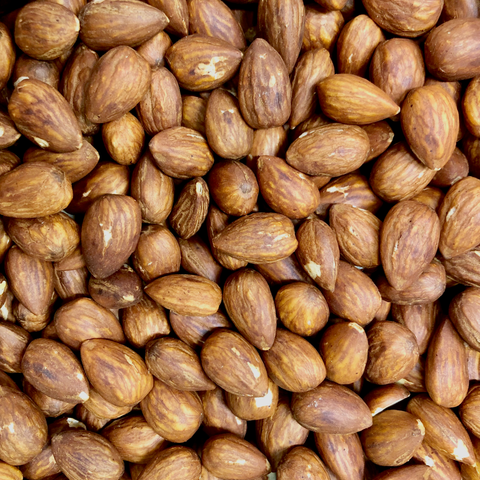 Almonds ~ California-Grown, Blanched, Dry Roasted, Lightly Salted & Natural
$8.00
Orchard Gold California-Grown Almonds are the freshest and most delicious varieties available, grown and packed in the heart of California's San Joaquin Valley.
The fruit of the Almond tree is grown primarily in California, but can also be found in the Mediterranean, Australia and South Africa. California Almonds have a delicate and slightly sweet flavor and provide 100% of California's Almond consumption and 80% of the world's Almond consumption.
The California Almond is a nutritional powerhouse and is considered a superfood that is low in sugar, high in protein, fiber and Omega-6 fatty acids. The California Almond is also a great source of potassium, magnesium, calcium, niacin and vitamin E and makes a great healthy snack or gift and are perfect for cooking and baking.
Keep frozen or refrigerated in air-tight containers to maintain maximum quality. They are available in hand-packed and hand-sorted, one-pound rounds, 2 or 3 per gift box, 2.5- and 5-pound bulk bags/boxes and case (12 one-pound rounds) quantities.
| Size | Price | Weight |
| --- | --- | --- |
| 12 oz Round / Dry Roasted | $8.00 | 1.0 lb |
| 12 oz Round / Dry Roasted & Lightly Salted | $8.00 | 1.0 lb |
| 12 oz Round / Natural | $8.00 | 1.0 lb |
| 1 lb Round / Blanched | $10.50 | 1.25 lb |
| 1 lb Round / Dry Roasted | $9.50 | 1.25 lb |
| 1 lb Round / Dry Roasted & Lightly Salted | $9.50 | 1.25 lb |
| 1 lb Round / Natural | $9.50 | 1.25 lb |
| 2.5 lbs Bulk Bag/Box / Blanched | $22.50 | 2.75 lb |
| 2.5 lbs Bulk Bag/Box / Dry Roasted | $22.50 | 2.75 lb |
| 2.5 lbs Bulk Bag/Box / Dry Roasted & Lightly Salted | $22.50 | 2.75 lb |
| 2.5 lbs Bulk Bag/Box / Natural | $22.50 | 2.75 lb |
| 5 lbs Bulk Bag/Box ~ Save $1 per pound! / Blanched | $42.50 | 5.25 lb |
| 5 lbs Bulk Bag/Box ~ Save $1 per pound! / Dry Roasted | $42.50 | 5.25 lb |
| 5 lbs Bulk Bag/Box ~ Save $1 per pound! / Dry Roasted & Lightly Salted | $42.50 | 5.25 lb |
| 5 lbs Bulk Bag/Box ~ Save $1 per pound! / Natural | $42.50 | 5.25 lb |
| Case (12 x 1 lb Rounds) / Dry Roasted | $108.00 | 14.0 lb |
| Case (12 x 1 lb Rounds) / Dry Roasted & Lightly Salted | $108.00 | 14.0 lb |
| Case (12 x 1 lb Rounds) / Natural | $108.00 | 14.0 lb |
Related products